Stag
The Triumph Stag is a British car that was sold between 1970 and 1978 by the Triumph Motor Company styled by the Italian designer Giovanni Michelotti.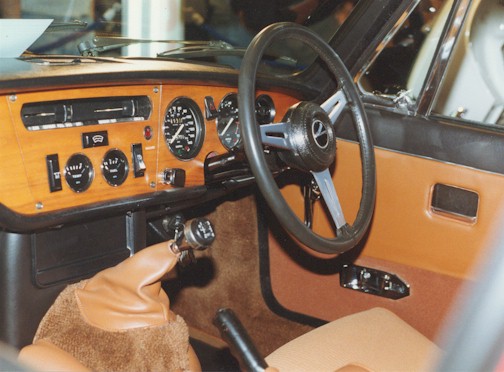 GT6
The GT6 was a 6-cylinder sports coupé built by Standard-Triumph and based on their popular Triumph Spitfire convertible. Production ran from 1966 to 1973.[1]
roduction 1966–1973
Assembly Coventry, England
Class Sports car
Body style(s) 2-door fastback
Layout FR layout
Engine(s) 1,996 cc OHV I6
Transmission(s) 4-speed synchromeshed manual with optional overdrive
Wheelbase 2,128 mm (83.8 in)
Length Mk 1 3,717 mm (146.3 in)
Mk 2/Plus 3,734 mm (147.0 in)
Mk 3 3,785 mm (149.0 in)
Width Mk 1/2/Plus 1,450 mm (57 in)
Mk 3 1,486 mm (58.5 in)
Height 1,193 mm (47.0 in)
Related Triumph Spitfire
Triumph Herald
Triumph Vitesse
Designer Giovanni Michelotti
1500
Production 1974–1981
95,829 made
Engine(s) 1493 cc Straight-4
Transmission(s) 4-speed manual with optional overdrive on top and third
Curb weight 1,750 lb (790 kg)(unladen U.K.spec)
Mark II
Mark I
The Triumph Spitfire was a small British two-seat sports car, introduced at the London Motor Show in 1962.[2] The vehicle was based on a design produced for Standard-Triumph in 1957 by Italian designer Giovanni Michelotti. The platform for the car was largely based upon the chassis, engine, and running gear of the Triumph Herald saloon, and was manufactured at the Standard-Triumph works at Canley, Coventry. As was typical for the manufacture of cars in this era, the bodywork was fitted onto a separate structural chassis, but for the Spitfire, being designed as an open top or convertible sports car from the outset, the ladder chassis was reinforced for additional rigidity by the use of structural components within the bodywork. The Spitfire was provided with a manual hood for weather protection, the design improving to a folding hood for later models. In addition, for the Mark 4 onwards, factory manufactured hard-tops could also be purchased and fitted for use in winter months.
Production 1962–1980
Body style(s) 2 seat sports convertible
Layout FR layout
Engine(s) 1197cc 4-cylinder OHV
1296cc 4-cylinder OHV
1493cc 4-cylinder OHV
Transmission(s) 4-speed manual.
Overdrive optional from 1964.
Wheelbase 83 inches (2108 mm)
Length 145 inches (3683 mm)
Width 57 inches (1448 mm)
Height 48 inches (1219 mm) hood up.
Curb weight 1,568 lb (711 kg) to 1,750 lb (790 kg) (unladen U.K.spec)
Related Triumph Herald, Triumph Vitesse, Triumph GT6
Designer Giovanni Michelotti